Synology Server Support
Synology®: Secure, Versatile Storage for Small Business & Home Users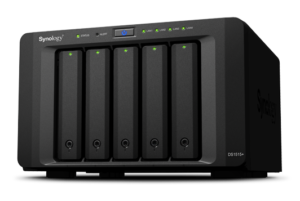 SunRock IT recommends, sells, installs and services Synology® NAS solutions.
Synology Servers are multi-platform compatible, meaning Macs, PCs and Linux users can all access the same files shared on the network.
Synology® servers feature hot-swappable hard drive support that ensures easy maintenance and continuous service uptime should a hard drive need replacement.  Synology® Servers can initially be installed with only necessary storage for your needs (keeping costs low), and can easily be expanded should your needs increase.
With the support of Windows AD, LDAP, and Domain Trust, Synology Servers enable seamless account integration. The User Home feature can automatically create a "home" folder for every user account to minimize the administrator's effort in repeatedly creating "home" folders for all accounts. Windows ACL support on Synology Servers allow IT administrators to fine tune access controls and set up privileges to files and folders through the familiar Windows user interface. With compatibility for major protocols, a Synology Server can eliminate server configuration overhead and enhance IT administrators' efficiency.
Learn more about Synology® Servers at www.synology.com, and contact SunRock IT to find out how we can use Synology® to grow your business!